Attacking The Big C: Funding To Cancer Therapeutics Jumps To $2.8B In 2015
Equity funding to private cancer therapeutics companies was up 153% in the year. The current quarter has already set a deal record. Published 2017 CB Insights Blog
We recently highlighted how cancer drugs were an area of high interest for pharmaceutical corporates, with one fifth of their deals to private companies since 2013 going to cancer drugs and therapies. These included deals to ADC Therapeutics, IPO bound Corvus Pharmaceuticals, and Unum Therapeutics.
With this in mind, we used our database to analyze funding to private biotechnology and drug discovery companies globally focused on cancer treatment, including the use of immuno oncology (therapies that target the immune system to help fight cancer), oncolytic viruses (viruses that kill cancer cells), antibodies, and drugs that target the cancer stem cells thought to lead to tumors.
Together, these companies have raised more than $6.7B in aggregate funding since 2011, with deal count nearly doubling from 2011 to 2015. Our analysis includes all equity funding as well as convertible note rounds.
This report contains the following information:
Global yearly deals and dollars
Equity funding to cancer therapeutics startups skyrocketed in 2015, growing 153% from $1.1B in 2014 to $2.8B. Apart from a 22% increase in deals from the previous year, 2015 also had 5 $100M+ mega rounds, with the largest being a $320M Series A round raised by UK based immuno oncology company, Immunocore. Both deals and dollars have been rising steadily since 2011, except for a drop in funding in 2012.
Annual growth in deals was significantly higher after 2013 (with 22% or higher growth in deal activity in both 2014 and 2015) compared to the two earlier years (when deal growth was 11% and 2% respectively).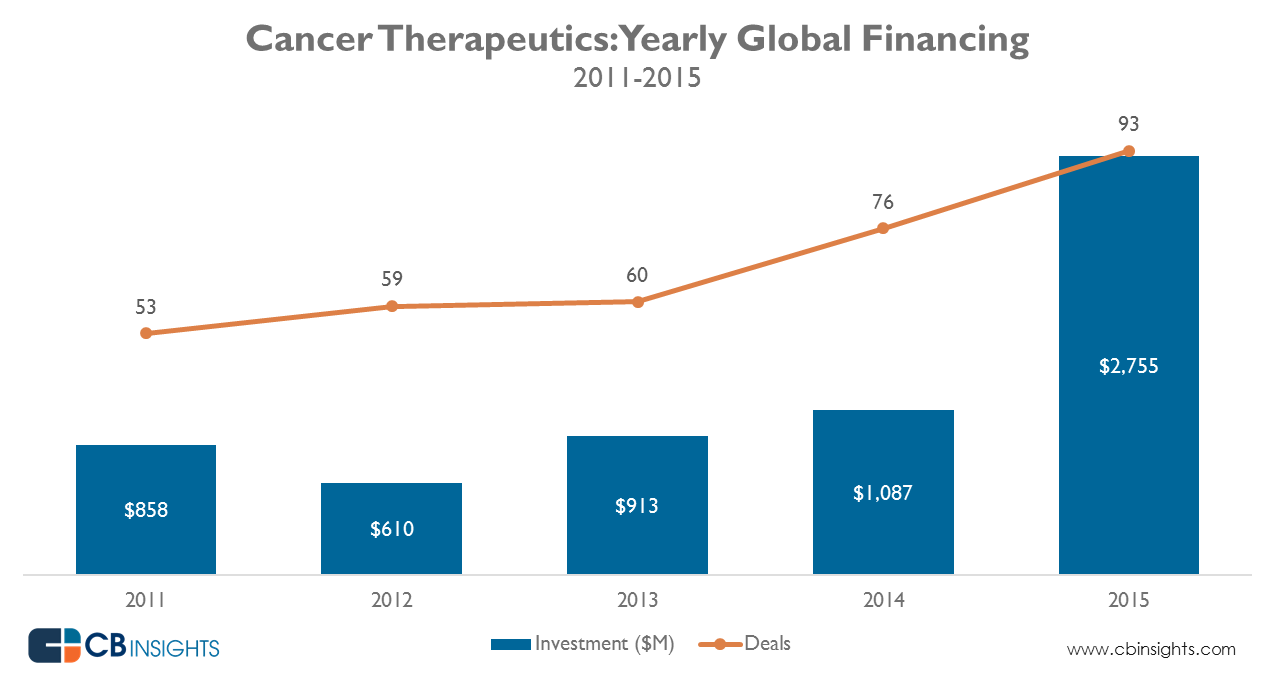 Global quarterly deals and dollars
Dollar funding reached a 5year quarterly high in Q3'15, led by a $102M Series A round raised by California based Gritstone Oncology. The average deal size that quarter was $52M.
The current quarter, Q1'16, has already reached a five-year quarterly high in deals. More than 25 companies have raised rounds this quarter, for an amount exceeding $550M in aggregate funding. This includes a $75M Series A round raised by Palo Alto, California based Forty Seven — backed by investors including Google Ventures and Lightspeed Venture Partners — and a $67M Series A round raised by NextCure, backed by investors including OrbiMed Advisors, Pfizer Venture Investments, and Sofinnova Ventures. Both Forty Seven and NextCure are immuno oncology startups.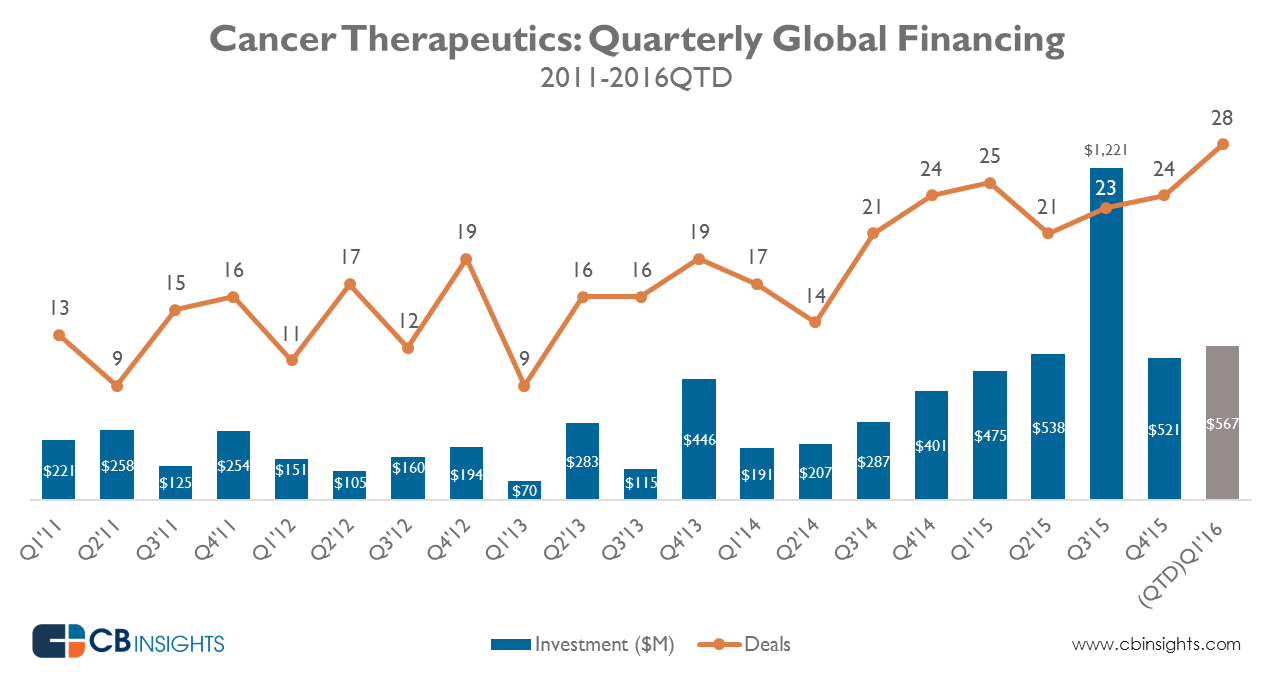 Deal share by stage
The largest deal volumes went to early-stage startups across all five years, with 43% of disclosed deals going to seed and Series A cancer therapeutics companies in 2015. Late-stage deals dropped 17 percentage points in deal share, going from 26% of deals in 2011 to 9% in 2015. The "other" category includes rounds where the stage was not disclosed, corporate minority deals, and convertible notes.
Most active VC investors
OrbiMed Advisors backed over 15 unique companies on the list, including NextCure, ORIC Pharmaceuticals, Syndax Pharmaceuticals, Aduro BioTech, and Corvus Pharmaceuticals.The VC participated in over 20 funding rounds amounting to over $800M in aggregate going to these companies.
The second most active VC on the list, Massachusetts based MPM Capital, announced on its website that it has partnered with wealth management firm, UBS, to create an oncology fund "focused exclusively on oncology that will invest in both private and public equities". Its most recent investment includes participation in a $43M Series B round raised by Tizona Therapeutics.
Cancer Therapeutics: Most Active VC Investors – 2011 to 2016 YTD
by Rank Investor

1 OrbiMed Advisors
2 MPM Capital
2 New Enterprise Associates
2 The Column Group
5 Osage Partners
6 Third Rock Ventures
6 Novartis Venture Funds
6 Atlas Venture
6 Morningside Ventures
6 Lilly Ventures
Most active early-stage VC investors
Most active overall VC investor OrbiMed also topped early-stage deal activity, participating in Series A rounds raised by Corvus Pharmaceuticals, Loxo Oncology, and Cleave Biosciences. Atlas Venture, which ranked sixth in the most active investors list above, was the second most active early-stage investor list. The VC backed companies in its portfolio include X4 Pharmaceuticals, Surface Oncology, Unum Therapeutics, Raze Therapeutics, Fstar Alpha, and CoStim Pharmaceuticals.
Cancer Therapeutics: Most Active Early-Stage VC Investors – 2011 to 2016 YTD
by Rank Investor
1 OrbiMed Advisors
2 Atlas Venture
3 The Column Group
4 MS Ventures
4 New Enterprise Associates
4 MPM Capital
4 Osage Partners
Most well funded companies
The most well-funded company on the list is Stemcentrx, which joined the unicorn club last year. The company is backed by investors including Founders Fund, Artis Ventures, and Sequoia Capital. Stemcentrx is focusing on targeting and destroying cancer stem cells.
Antibody therapeutics company Symphogen — the second highest-funded company on the list — raised a $75M convertible note round in 2015. The rankings are based on equity funding rounds raised (including convertible notes). One of the companies on the list, Corvus Pharmaceuticals, is planning to IPO late this month.
Most Well-Funded CancerTherapeutics Companies – 2011 to 2016 YTD
by Rank Investor

1 Stemcentrx
2 Symphogen
3 Immunocore
4 GANYMED Pharmaceuticals
5 NantCell
6 ADC Therapeutics
7 Merus
8 Celator Pharmaceuticals
9 Tocagen
10 Kolltan Pharmaceuticals
11 Isarna Therapeutics
12 Corvus Pharmaceuticals
http://avantexbio.com/wp-content/uploads/2017/05/avantext-bio-logo-Active-targeting-nano-particle-dual-drug-co-delivery-system-synergistic-anti-cancer-therapy-improved-cancer-therapeutics-2.png
0
0
avantexb
http://avantexbio.com/wp-content/uploads/2017/05/avantext-bio-logo-Active-targeting-nano-particle-dual-drug-co-delivery-system-synergistic-anti-cancer-therapy-improved-cancer-therapeutics-2.png
avantexb
2016-03-15 08:00:20
2021-10-12 00:14:12
Attacking The Big C: Funding To Cancer Therapeutics Jumps To $2.8B In 2015